………………………………………………………………………………..
Before Marnie found herself in the arms of Tina Fey and Taylor Swift, she was a partially blind stray living on the streets. Now her internet fame is helping others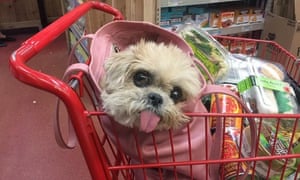 Marnie the dog at the supermarket. Photograph: Twitter
Marnie the dog – a 13-year-old Shih Tzu known for her ever-present tongue and head tilt – has risen from a stray to a star. Now, the Instagram celebrity is using her fame to advocate for senior pups like her.
Shirley Braha, who adopted Marnie three years ago, is using her dog's growing popularity to shed light on the adoption of senior dogs. She's created a fund – Marnie's Old Pals – to help senior dogs in shelters receive necessary veterinary care.
To celebrate Marnie's 13th birthday and the launch of her new book, Braha's group held its first fundraiser on Monday night in New York, and asked those who attended to donate $5 to the fund.
I can't make the meeting, sorry! 💤