………………………………………………………
Is This Real Life? Saudi Arabia Executes 'Wizards', But Condemns 'Syrian Human Rights Violations'
A Saudi-proposed UN resolution expresses "outrage" at the worsening violence in Syria (fuelled by Saudi-backed extremists) that has left at least 250,000 dead
Close your eyes and think about "defenders of human rights". What image bubbles up from your subconscious? If you answered "Saudi Arabia", you probably represent one of the 115 countries that just passed a Saudi-proposed UN resolution condemning "Syrian human rights violations."
Yes, Saudi Arabia —the oasis of human dignity where Harry Potter fans (widely considered the greatest dangers to world peace) are dealt with accordingly — is leading the fight against Syrian violence caused by Saudi-funded terrorists. Here are the terrible details:
A resolution presented by Saudi Arabia was adopted by a vote of 115 to 15, with 51 abstentions.

China, Iran and Russia were among the countries that voted against the measure that now goes to the full General Assembly.

The resolution expresses "outrage" at the worsening violence that has left at least 250,000 dead and displaced more than 12 million people. It stressed the need for accountability and encouraged the UN Security Council to take action, noting that the International Criminal Court (ICC) could play a role. An attempt last year to refer Syria to the ICC for war crimes was blocked by Russia, Syria's ally, and China at the Security Council.
…………………………………………………………………………………
Cultural figures and human rights groups call for release of poet facing execution
Individuals and creative organisations join Amnesty International to demand Saudi Arabia overturn Ashraf Fayadh's conviction for renouncing Islam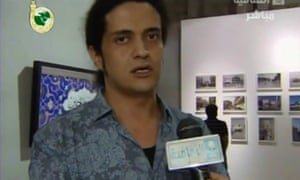 Leading international cultural figures have joined human rights campaigners in calling for the release of Ashraf Fayadh, the Palestinian poet and artist facing execution in Saudi Arabia.
Chris Dercon, the director of Tate Modern, British poet laureate Carol Ann Duffy, historian Simon Schama, playwright David Hare, and Egyptian novelist and commentator Ahdaf Soueif are among the those calling for the death sentence imposed on Fayadh by a Saudi court last week to be overturned.
More than a dozen organisations for artists, writers, musicians and freedom of expression from the UK, North America and Africa – including Index on Censorship, literary association PEN International and the International Association of Art Critics – have also signed a joint statement condemning Fayadh's conviction for renouncing Islam, a charge which he denies.
The statement, which will be delivered to the Saudi embassy in London on Friday, says: "We believe that all charges against him should have been dropped entirely, and are appalled that Fayadh has instead been sentenced to death for apostasy, simply for exercising his rights to freedom of expression and freedom of belief."
Amnesty International launched an urgent action on Tuesday to lobby for Fayadh's release, which denounced his lack of legal representation as a violation of international and Saudi law.
Schama said: "Anyone with a conscience should abhor the sentence and shun those responsible as inhuman."
………………………………………………………………………..
Saudi Arabia executes 100th prisoner in 6 months
Published time: 15 Jun, 2015 14:25
Saudi Arabia has beheaded a Syrian drug trafficker, rocketing the number of this year's executions in the Kingdom to 100. This figure is already more than the 87 sentenced and put to death in the country during the whole of last year.
The execution took place on Monday in the northern region of Jawf. Syrian Ismael al-Tawm smuggled "a large amount of banned amphetamine pills into the kingdom," the Saudi Interior Ministry said in a statement, as cited by AFP.
READ MORE: 89 in 5 months: Saudi Arabia continues executions
The man was sentenced to death according to the nation's strict version of Sharia law, under which such crimes as murder, rape, armed robbery and drug trafficking are punishable by death. Public executions are mostly conducted by decapitating the accused with a sword.
The 100th execution has surpassed the 87 recorded by AFP in 2014, but is still some way below the highest figure of 192, recorded by the human rights group Amnesty International in 1995. The watchdog has been scathing of the Kingdom's human rights record, saying they "fall far short" of global norms.
"Almost half of the executions carried out so far this year have been for drug-related offences, which don't fall into a recognized international category of 'most serious crimes,' and the use of the death penalty for such offences violates international law," a statement on Amnesty International's website read.
………………………………………………………………………..
******************************************************************************************************************