……………………………………………………………………………..
There have been more than 11,000 fires in just one region of the Brazilian Amazon this year
While climate change can certainly exacerbate drought conditions, leading to more frequent wildfires, this year's ferocious fire season might also have been heavily influenced by the El Niño event developing in the Pacific Ocean.
Satellite images revealed that on October 4, 2015 there were over 900 fires burning in the Brazilian Amazon at once.
The region most affected by the fires was the northern state of Amazonas, where some 11,114 forest fires were recorded this year.
If the Pacific El Niño continues to strengthen, researchers expect fire risk in the Amazon to increase, as well.
On October 4, 2015, satellite images revealed that there were over 900 fires burning in the Brazilian Amazon.That figure was reported by Brazil's Institute for Space Research, known as INPE, which said that the region most affected by the fires was the northern state of Amazonas. Some 11,114 forest fires have already been observed in Amazonas this year, a 47 percent increase over the same period last year, according to INPE.

Amazonas is not alone in dealing with increased incidence of forest fires. More than a quarter of the fires so far this year have occurred in the Cerrado agricultural region, which encompasses parts of the central states of Mato Grosso, Mato Grosso do Sul, Tocantins and Minas Gerais, for instance.

Meanwhile, Brazil's southeastern states have been suffering from extreme drought, and a study by researchers at the Carnegie Institution for Science at Stanford University determined that the area of the Amazon affected by mild to severe drought is likely to double in the eastern part of Amazonia and triple in the west by 2100, due largely to the impacts of deforestation.

The Carnegie Institution researchers did not factor rising global temperatures into their calculations, however, meaning drought conditions are likely to be even worse than they projected. That does not bode well for future fire seasons being tamer than 2015.
………………………………………………………………………………….
El Niño: food shortages, floods, disease and droughts set to put millions at risk
Agencies warn of unchartered territory as strongest-ever El Niño threatens to batter vulnerable countries with extreme weather for months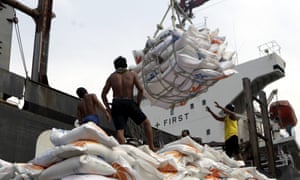 The UN has warned of months of extreme weather in many of the world's most vulnerable countries with intense storms, droughts and floods triggered by one of the strongest El Niño weather events recorded in 50 years, which is expected to continue until spring 2016.
El Niño is a natural climatic phenomenon that sees equatorial waters in the eastern Pacific ocean warm every few years. This disrupts regular weather patterns such as monsoons and trade winds, and increases the risk of food shortages, floods, disease and forest fires.
This year, a strong El Niño has been building since March and its effects are already being seen in Ethiopia, Somalia, Kenya, Malawi, Indonesia and across Central America, according to the World Meteorological Organisation. The phenomenon is also being held responsible for uncontrolled fires in forests in Indonesia and in the Amazon rainforest.
The UN's World Meteorological Organization warned in a report on Monday that the current strong El Niño is expected to strengthen further and peak around the end of the 2015. "Severe droughts and devastating flooding being experienced throughout the tropics and sub-tropical zones bear the hallmarks of this El Niño, which is the strongest in more than 15 years," said WMO secretary-general Michel Jarraud.
Jarraud said the impact of the naturally occurring El Niño event was being exacerbated by global warming, which had already led to record temperatures this year. "This event is playing out in uncharted territory. Our planet has altered dramatically because of climate change," he said. "So this El Niño event and human-induced climate change may interact and modify each other in ways which we have never before experienced. El Niño is turning up the heat even further."