………………………………………………………………………………..
The Russian plane crash in Sinai, Egypt, was caused by a terrorist attack as traces of explosives have been found in the wreckage of the plane, Federal Security Service director Aleksandr Bortnikov told President Vladimir Putin.
"We can say that that [Sinai plane crash] was a terror act," Bortnikov told Putin. According to the FSB chief, experts analyzed passengers' belongings as well as the parts of the plane. "After the examination on all these objects, we have found traces of a foreign-made explosive substance," Bortnikov said.
"During the flight, a homemade device with the power of 1.5 kilograms of TNT was detonated. As a result, the plane fell apart in the air, which can be explained by the huge scattering of the fuselage parts of the plane," he added.
Russia will act in accordance with Article 51 of the UN Charter, which provides for countries' right to self-defense, Putin said. "Those who attempt to assist criminals should be aware that the consequences of such attempts will be entirely their responsibility," he added.
Another photograph showed passports said to belong to Russian passengers killed in the bombing, with the documents allegedly obtained by Islamic fighters.
The authenticity of the images has not been verified.
……………………………………………………………………………………
Reports Egypt detained 2 airport workers suspected of aiding bomb plant on Russian plane denied
Published time: 17 Nov, 2015 09:27Edited time: 17 Nov, 2015 13:32
A report that Egypt is holding two employees of Sharm el-Sheikh Airport on suspicion of assisting those who planted the explosive device on the Russian jet that crashed in Sinai have been denied by Egyptian authorities and other airport officials.
"Seventeen people are being held, two of them are suspected of helping whoever planted the bomb on the plane at Sharm al-Sheikh Airport," one of the officials apparently told Reuters.
The reports, however, were promptly denied first by Egyptian authorities, and later by one of the airport employees, who spoke with RIA Novosti.
"I have been here [in the airport] during these days, so I can say that no one was detained. In the first days after the tragedy, many people were questioned, but no one was arrested," he said.
…………………………………………………………………………………………
ISIS releases video claiming revenge 'downing' of Russian passenger jet over Sinai
Published time: 4 Nov, 2015 01:15Edited time: 7 Nov, 2015 10:38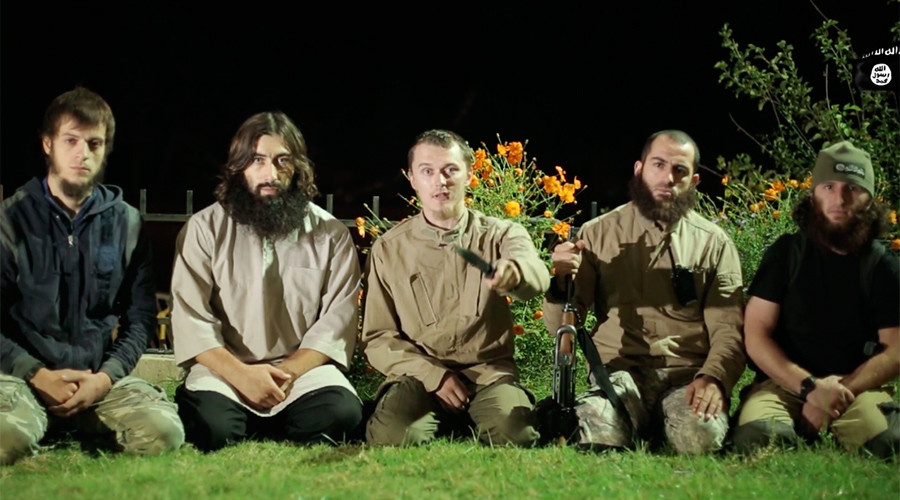 A new Islamic State video shows a Russian-speaking jihadist praising his "Sinai brothers" for "taking down" a Russian passenger jet and threatening more attacks, while both Russia and Egypt say the group doesn't possess the means to shoot down a plane.
Follow RT's LIVE UPDATES on Russian A321 jet crash over Sinai

In the newly-released video, five Islamic State (IS, formely ISIS/ISIL) jihadists are seen sitting outside as one of them praises militants in the Sinai Peninsula for allegedly bringing down the Russian A321 passenger jet with 224 people on board.
Surrounded by four fellow jihadists, a Slavic-looking man speaking both in Russian and Arabic, addresses President Vladimir Putin, warning the Russian leader that he would regret targeting ISIS in Syria.
With a knife in hand, he threatens to continue taking down planes, invading countries, and killing people in retaliation for Russia's military operation in Syria.
READ MORE: Flight 7K9268: What we do and don't know about Russia's deadliest-ever air crash
Islamic State first attempted to claim responsibility for bringing down the Airbus 321 shortly after the plane crashed en route from Egypt's Sharm-el-Sheikh to St. Petersburg on October 31.
However, the claim was quickly rejected by both Russian and Egyptian officials as "unlikely."
…………………………………………………………………………………
'Bogus bomb detectors' used in Sharm el-Sheikh hotels before Sinai plane crash
Published time: 10 Nov, 2015 14:21
Bomb detectors used in Sharm el-Sheikh hotels as part of security procedures introduced to tackle terrorism have been exposed as "fake" by experts, it has emerged.
Hundreds of Britons are still stranded in the Egyptian resort after a plane carrying 224 people crashed in Sinai last week.
Foreign Secretary Phillip Hammond announced on Monday it is "highly likely" a bomb planted by Islamic State (IS, formerly ISIS) supporters caused the disaster.
A number of hotels in the resort have been using a wand-like aerial attached to a box to screen luggage.
Guards have been using the devices to sweep hotel guests, cars and luggage to ensure no explosive devices are kept in rooms or taken on to planes.
Experts, however, have revealed the supposed bomb detectors offer "no protection" whatsoever against terrorism.
This revelation means a bomb could have easily been smuggled into a hotel and planted in a passenger's luggage before the Russian jet crashed last week.
According to the Mail Online, the devices were being used to protect at least five top hotels in Egypt catering for Britons.