How the Ancient & Mostly Christian Town of Maaloula was Invaded by al-Qaeda & the FSA
Eretz Zen WarVids
Published on Sep 21, 2013
This video shows excerpts from the planned attack on September 4, 2013 by the foreign-backed insurgents led by al-Qaeda's Jabhat al-Nusra (Nusra Front) and assisted mainly by John McCain's "moderate rebels" from the 'Revolutionaries of Bab Amr' Brigade of the "Free Syrian Army" (FSA) on the ancient and mostly Christian town of Maaloula, the only town in the world where Aramaic is still spoken by its inhabitants. The town retains a highly symbolic importance in Christendom not only due to "Jesus's language" that is still spoken there but also due to its ancient Christian heritage and monasteries.
The invasion of the town was carried out by means of a suicide bomber with the alias of Abu Musaab, whose accent in Arabic indicates that he is most likely from Saudi Arabia, and who blew himself up at the checkpoint situated at the ancient town's main gate. The rhetoric of Jabhat al-Nusra terrorists, as seen from this footage, reveals how their Saudi Wahhabi doctrine ingrains in them a deep hatred of anything that does not conform to their strict and narrow-minded way of life.
The last portion of the video is a report from Russia Today (RT) showing the suffering of the citizens of Maaloula at the hands of these militants who think that they are advancing a divine cause by killing people.
Sources: Abu Jihad al-Hamwi, RT
************************************************************************

Syrian Christian village in crossfire as govt forces try to squeeze out Al Nusra rebels
Published time: September 07, 2013 14:57
Edited time: September 07, 2013 20:15
Maria Finoshina @MFinoshina_RT
"Reinforcement" is 5 or 6 packed buses.Army officers say up to 300 rebels in #Maaloula Safir hotel + hundreds nearby pic.twitter.com/QBOYNuq4pK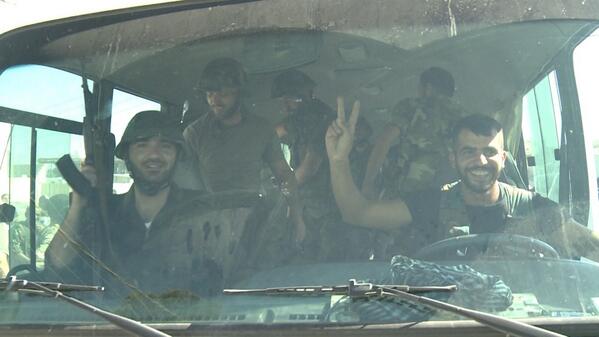 Heavy fighting between rebels and regime forces continues in Syria's predominately Christian village of Maaloula, which was earlier partially destroyed by Al-Qaeda affiliated rebels.
"There are clashes just inside the town in the western district between Popular Committees (militia) and rebel forces," director of the Syrian Observatory for Human Rights, Rami Abdul Rahman, told AFP.
"There are also clashes between soldiers backed by militias and rebel fighters around the area of one of the entrances to Maaloula," he said.
State television citing a military source reports several rebels have been killed and their weapons destroyed as the army targeted a hotel and surrounding positions on the outskirts of Maaloula, north of Damascus, where a group of rebels were stationed.
Maaloula – a mountain village of 2,000 residents, 60km northeast of Damascus – is home to some of the most ancient Orthodox Christian relics and is a major pilgrimage destination. It's also one of the very few places in the world where people still speak Aramaic, a biblical-era language that Jesus is believed to have spoken.
An RT news crew traveled to the site, but was not allowed to enter the city for safety reasons.
"The militants, around 300 people, hide [sic] in Safir hotel, there are ancient caves there under the village – they use them as well. They watch us – and we watch them, but if we start moving – they'll attack us. But unlikely before the sunset," a Syrian army soldier told RT's Maria Finoshina.
However, the opposition Syrian National Coalition said members of the Free Syrian Army had withdrawn from Maaloula earlier this week, after destroying army posts at Maaloula.
**************************************************************
McCain had secret meetings with Al Nusra and AlQaeda fighters
Published on Jun 1, 2013
McCain had secret meetings with Al Nusra and AlQaeda fighters
…..
WASHINGTON — Senator John McCain, the Arizona Republican who has called for the United States to intervene militarily in Syria, traveled to Syria on Monday to meet with rebel forces fighting the regime of President Bashar al-Assad, according to a spokesman for Mr. McCain. It was the first time that a United States senator had gone to Syria to meet with the rebels since the conflict there began two years ago.
Mr. McCain entered Syria from southern Turkey, according to his spokesman, Brian Rogers, who added that the senator had been in the region to attend the World Economic Forum meeting in Jordan over the weekend.
In 2011, Mr. McCain traveled to Libya to meet with rebel forces there while they were fighting Col. Muammar el-Qaddafi, and made similar calls for the United States to provide military aid to the rebels. The United States did ultimately provide military support, along with several European countries, and Colonel Qaddafi's regime was toppled.
**************************************************************
McCain dismisses study that says Syria rebels are extremists
Senator John McCain (R- AZ.)
Fri Sep 20, 2013 6:4AM GMT
Charles Lister names the al-Qaeda affiliated al-Nusra Front and the Islamic State in Iraq and Syria (ISIS) as the most "extreme" groups of the insurgency in Syria which together command an estimated 7,000 to 10,000 fighters, scattered in at least 11 of Syria's 14 governorates.
Senator John McCain (R- AZ.), a staunch advocate of US military strikes on Syria, dismisses as "not true" a study that asserts "extremists" increasingly make up the opposition in the Arab country.
The study, released this week by defense consultancy IHS Jane's, found that the insurgency fighting against the Syrian government is now "dominated" by extremist groups.
Speaking to an audience at The Council on Foreign Relations, McCain stated, "Not true, not true!"
"There's about 70 percent still who are Free Syrian Army," said McCain who has previously met with militant leaders in Syria.
The Jane's study found that only around 30 percent of insurgents are not extremists.
In an article published by the Foreign Policy magazine early in September, Charles Lister, the study's author, gave his assessment of the militant groups in Syria.
"Groups on the more extreme end of the spectrum, particularly those affiliated with al Qaeda, have proven remarkably adept at spreading their military resources across large swathes of territory, joining battles at the pivotal moment, and exploiting their superior organizational structures to establish political control and influence over territory."
Lister named the al-Qaeda affiliated al-Nusra Front and the Islamic State in Iraq and Syria (ISIS) as the most "extreme" groups of the insurgency in Syria which together command an estimated 7,000 to 10,000 fighters, scattered in at least 11 of Syria's 14 governorates.
**************************************************************
Wednesday, September 11, 2013
Al Qaeda-linked Syrian rebels who seized the ancient regime-held Christian town of Maalula last week forced at least one person to convert to Islam at gunpoint and executed another one after he refused, residents said Tuesday, Agence France-Presse reported.
"They arrived in our town at dawn on Wednesday and shouted 'We are from the Al-Nusra Front and have come to make lives miserable for the Crusaders,'" an Islamist term for Christians, a woman, who identified herself as Marie, told AFP in Damascus.  Thousands headed to the capital Wednesday to attend the burial of three Christians from the village who have been killed.
"Maalula is the wound of Christ," mourners chanted as they marched through the streets, AFP said.
Clashes first erupted on Wednesday, when an al-Nusra fighter blew himself up at a regime checkpoint at the entrance to the village. The rebels eventually seized the checkpoint and disabled two tanks, the Syrian Observatory for Human Rights said.
On Tuesday night, "the Free Syrian Army said rebels had withdrawn from Maalula to spare its people and heritage, but only on the condition that the regime kept its forces out as well," AFP reported.
Recalling the events from last Wednesday, 62-year-old Adnan Nasrallah said he saw "people wearing Al-Nusra headbands who started shooting at crosses."
**************************************************************
Related articles